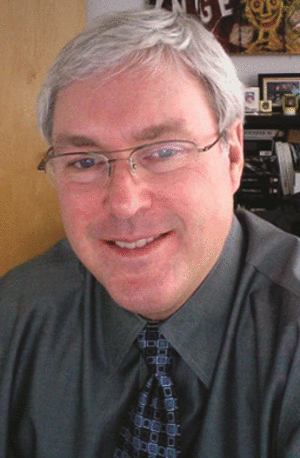 1. How did you start working in/with the legal marketing industry?
I started working with the American Law Firm Association (now ALFA International) in the early 1990s. I developed a wide range of materials for ALFA, which included brand identity, member directories and event collateral. At the same time I had developed a good working relationship with Connie Brown (no relation) who was then the marketing director for Grant Thornton in downtown Los Angeles. Eventually, Connie switched from accounting to law and accepted the marketing director position at Greenberg Glusker. I have been providing design and marketing services to the legal community ever since.
2. How do you describe your job to people outside of the legal industry?
I am a marketing and graphic design consultant. I work with clients to develop effective, well-organized content and visual presentations to positively promote their organization—brand identity, practice brochures, web sites, advertising, direct mail and newsletters.
3. What's the best part of your work and why?
Working with people and developing design solutions.
4. How do you deal with "impossible" situations?
There are no impossible situations…my job is to find a solution that will fulfill my client's need.
5. If you were to build the "perfect" legal marketer, what skill(s) would they most need?
Wow, that's a difficult one. Everybody brings a different set of skills and experiences to the job…it's what makes things interesting. I guess if I had to select a specific skill for the "perfect" marketer would be the ability to remain calm under pressure.
6. If you could have any job other than what you currently do, what would that be?
I love what I do and keep looking for better and more creative ways to do it.
7. What are your passions outside of work?
My family–followed by the theater, reading, travel and tennis.
8. What's your favorite guilty pleasure?
The theatre, reading, travel and tennis.
9. Why did you join LMA and is it the same reason you are still a member?
I was asked to provide creative services for the 2008 and 2009 Continuing Marketing Education Conferences. It was my first introduction to LMA-LA and discovered what a great organization it was. Providing the graphics made me a participant and I felt at home…so I joined.
10. What's your best LMA memory?
The gratification that comes from developing a business relationship and earning the approval of an LMA-LA member—plus the added bonus of having them refer me to a colleague.
CONTACT INFORMATION:
Larry Brown
Owner
Larry Brown Graphic Design & Communications
6151 W. Century Blvd., Suite 524, Los Angeles, CA 90045
310-410-9771
310-410-9715 Fax
lbrown@lbgraphicdesign.com
www.lbgraphicdesign.com